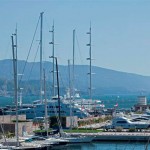 From the 05th of April 2013 Porto Mirabello will host the 10th edition of Regata dei Cetacei, spring event that is connected between sport, culture, environment and entertainment, with the aim to focus on natural resources of our ecosystems through schools and sports.
The 2013 Edition will be divided into a series of competitions in ACT 0.1 Approach Route from the North, ACT 0.2 Approach Route  from the South, ACT1 Rotta delle Balene and Rotta dei Delfini Alpha and Beta  and ACT3 Rotta tra le Balene.
The regatta, which takes place in the sea area between La Spezia and Corsica (part of the Cetacean Sanctuary Italy France-Corsica) consists in 2 initial stages of "rapprochement" at the point of departure (Isola del Tino/Palmaria), one starts from South (Viareggio) and the other from North (Lavagna).
The second phase begins the 05th of April and with base in Lerici (SP), with the stages Giraglia-Viareggio-Tino-Lerici.
The event will end the 24th of  May with stage Viareggio-Capraia.