What do you feel like doing today? Sport, sport, sport!
Often the long-term stays in ports for crews and commanders are long and boring. At PortoMirabello this isn't the case. Our marina is at the center of many tourist, entertainment, and sports attractions. In this part of the website we'll talk about sports. Just a few kilometers from PortoMirabello it is possible to play any sport and take on any challenge, surrounded by nature and the beauty of the Cinque Terre, a UNESCO world heritage site. The concierge is at your disposal and can organize rafting, kayak, or canoe races, or book a guide who will accompany you in an exciting experience of river trekking. Or would you rather go horseback riding, or spend a whole day playing 18 holes? Everything is possible at PortoMirabello!
More than 125 km of hiking through one of the most charming regions of the Mediterranean. Forests of beech and oak mix with the aromas of the Mediterranean scrub and sea, almost always present in the background. The Apennines reveal ancient churches, villages clinging to the hills, precipitous rocky cliffs, and plateaus where you can stop and rest during your walk, enjoying a spectacular view of the Gulf of Poets.
Travel down the waterways, passing through narrow rocky canyons crisscrossed by small streams or 100 meter drops…. An exciting adventure that you will experience, accompanied by specialized expert guides, just a few kilometers from PortoMirabello!
Mountain biking
Ride on cliff trails that overhang the crystalline waters below, or ascend up to 1,500 meters at the top of the Apennines, all within a range of 40 kilometers. Discover some of the most important trails that have transformed the eastern Ligurian inlands into a paradise for lovers of downhill.
Just a few kilometers from the port you can enjoy a day on the most elegant greens of the coast, in an area completely surrounded by the sea.
If you love tennis and don't want to miss a day of practice, we can book a court for you or organize a tournament for the whole crew!
Diving like a crazy person (but with the right equipment) and sliding down the streams of Liguria is an adventure that should be tried at least once. You bring your enthusiasm and a desire to have fun, and our expert guides will take care of the organization.
For those who love hiking and are looking for a new experience, we've got 2 km of river trekking with trails that run through the cool, crystalline streams of La Spezia. Hike across small waterfalls and rocky narrows. An exciting journey through the woods of the Ligurian Apennines, surrounded by absolute serenity.
Armed with helmet and life preserver, spend a full day in your kayak, crews down the Vara, a 5 km stretch of  shifting water speeds where competition and fun will grow as you descend the river. You've got to try it!
Armed with helmet and life preserver, organize a rafting competition between crews down the Vara, a 5 km stretch of  shifting water speeds where competition and fun will grow as you descend the river. You've got to try it!
Each winter the nearby peaks of Zum Zeri, Prato Spilla, and Laghi del Cerreto, located along the borders of Liguria, Tuscany and Emilia, are filled with downhill and cross-country skiers, snowboarders, and ice skaters. The best season is from January to April. The Rio Spilla chairlift at Prato Spilla ski resort rises to 1,700 meters where you have a stupendous panorama that goes from the Gulf of La Spezia to the Alps.
Horseback riding
In the spring and summer it is fun to ride along the Apennine trails of La Spezia. It is possible to organize rides lasting from one hour to multiple days, stopping at various agritourism locales along the Magra river, traveling towards the sea and the long pathways of the Tuscan and Ligurian Apennines, following the ancient Via Francigena trails and discovering the Monte Marcello-Magra park. They are enchanting places of unspoiled nature where time has come to a stop.
Nordic walking
If you love the forests and valleys of the Ligurian Apennines, there is a wide range of picturesque and spectacular views to choose from, enjoying an energetic and relaxing Nordic Walk. For example, the trail that runs from La Spezia to Levanto is very interesting, running along the Cinque Terre. The path is 39 km long and covers 767 meters of altitude, from where you can enjoy incomparable views of the sea and various capes.
Paintball
Paintball will transform you into guerillas battling… in color. You will be equipped with special arms and camouflage tactical gear, moving through an area established by the competition judges. No holds barred. Any color allowed!
Orienteering
If, on the other hand, you're looking for a competition, you can organize an orienteering race. The challenges take place either immersed in nature or in the city, the important thing is to have fun! Follow a pre-arranged map, discovering each landmark of the competition as fast as you can because the stopwatch will be running.
From PortoMirabello you can get to Modena by helicopter in only 24 minutes. Once you've arrived in the land of motors, you will have a unique experience of driving a supercar on the track to enjoy its performance in complete safety without worrying about the dangers and speed limits of the road. You will drive actual racing cars: Ferrari, Lamborghini, Maserati, or other exciting supercars. You will have fun following the suggestions of your own personal driver, in the end having improved your driving ability and making you feel safer when you go back to your daily driving routine.
A gym is already available for Porto Mirabello guests: state-of-the-art Technogym equipment allows Capitains and Crew to keep fit and never give up their personal training.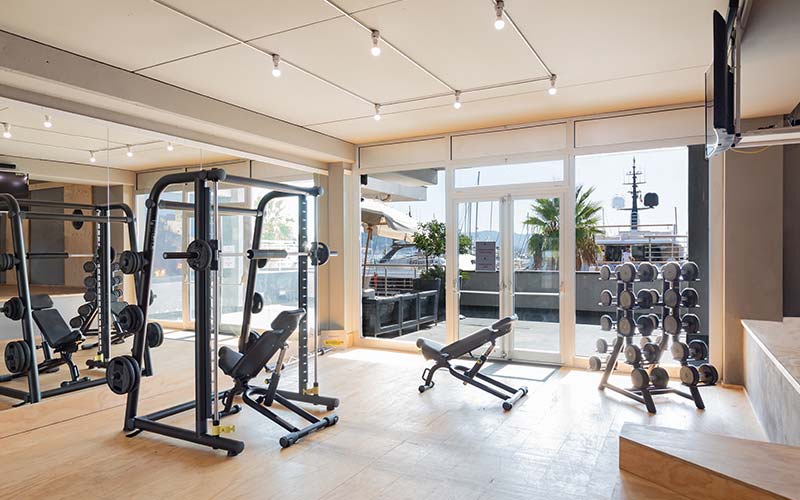 Paddle is a sport, derived from tennis, which can be practiced outdoors and indoors. Porto Mirabello is organizing to have its own paddle court, inside the port structure. Once ready, the Crews and commanders can use this field for free. It will be sufficient to reserve your game.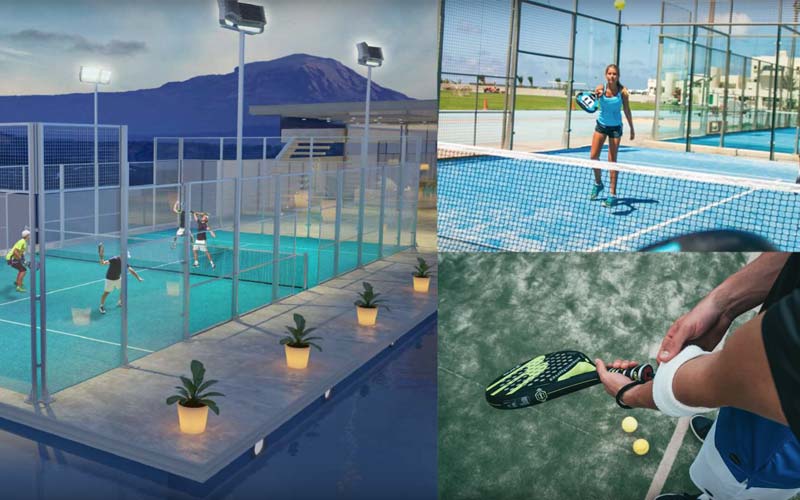 Team sports always serve to strengthen the bond with people. We know how important it is to be united when travelling on the small space of a boat, even when it comes to superyachts. Porto Mirabello is building a street basketball ground for the exclusive use of Crew and Commanders guests of our Marina. It will be ready soon and we will not fail to let you know.