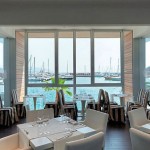 Saturday 9th of February 2013 at 06.00 p.m. will be inaugurated the new management of Restaurant Akua directed by "Oscar Barani", whose 30 years of high-level experience, will lead us in the beautiful setting of Porto Mirabello, discovering new tastes, in particular you can taste the absolute delicacy of good fish dishes, exclusively fresh, where the aromas of the Ligurian cuisine blend with the Tuscan flavor.
There will also be meat plates, matched by an extensive wine list.
Love for cooking and sea sees him at the helm of Hotel San Pietro in Portovenere, at the Restaurant "La Medusa", where you could enjoyed its renowned "Penne all'imperiale", then among the hills of Lunigiana, its homeland, and finally, now, its new love: Porto Mirabello Restaurant.